Teaching is a highly respected profession in Singapore and around the world, being much more than just dispensing knowledge in a field of study. However, most teachers would probably say they are overworked and underpaid.
That's probably why there's a demand for personal loans for teachers, with this source of emergency funds coming in handy should an unfortunate situation arise at home.
Why would a teacher need a loan?
Like a good number of corporate roles, teaching jobs in Singapore can be had in the public and private sectors. As with most fields, teachers in the private sector are paid better. Indeed's statistics show that as of October 2021, teachers in the public sector have an average monthly salary of approximately S$3,100.
On the other hand, teachers in Singapore's top private schools earned triple that amount.
From this example alone, it is safe to assume that more government school teachers apply for personal loans for teachers when they need emergency funds. Before COVID-19 came about, many of them supplemented their income by holding private classes.
As the world moves on from the pandemic, this option has opened up again. However, it's no surprise that private tutoring opportunities dried up in 2020 and 2021. For one, large group classes could not be held for the bulk of the two years.
Additionally, there is no overtime pay for teachers either. Non-workmen–also known as white-collar professionals–have to be earning S$2,600 and below per month to claim overtime pay. The basic salary for even trainee teachers exceeds that amount, ruling out this source of funds.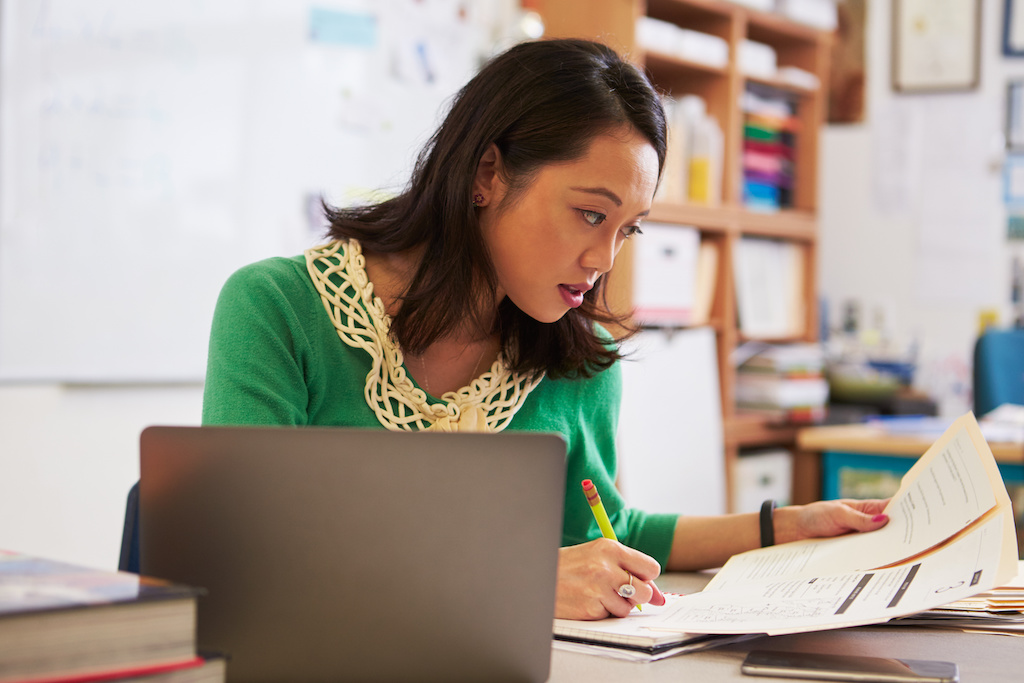 In these two cases, personal loans for teachers may be used to keep up with expenses or to deal with a financial emergency.
However, some forward-thinking teachers may also consider getting a term loan to set up their own business, whether it's a tuition centre or project tapping on their other skills and knowledge.
Fortunately, licensed money lenders in Singapore offer loans that a teacher may use for one or more of these expenses specifically. Additionally, teachers from both government and private schools may also qualify for other personal loans that place no restrictions on how the money is used.
Applying for a loan as a teacher
While the most obvious difference between government and private school teachers seems to be their salary, there are other important distinctions too.
The most relevant of these for a government school teacher considering a loan is that they are considered civil servants. This means that falling into debt or bankruptcy may very well result in termination from their jobs. However, do note that private schools are free to set their own rules and regulations as well.
Basic application criteria
The normal rules and restrictions apply to personal loans for teachers as they would to any other applicant. Approval is more likely if an applicant satisfies certain criteria, including:
A 'Good' or 'Excellent' credit rating
Low credit utilisation (approximately 30% of the maximum for their credit score)
Stable employment
No history of unpaid debts or bankruptcy (for at least the past 10 years)
Income range and loan principal amount
A legal money lender that offers personal loans for teachers will assess your eligibility based on your identity and financial history. You can ensure that the process is quick and simple by providing the right documents when applying for a loan. Making an in-person application helps to speed up loan approval and fund disbursal too.
Identity proof
Every legal money lender takes precautions to prevent identity theft and fraud. Identity documents help to ensure that scammers don't use your name to obtain a loan. Legal money lenders would usually request one or more of the following documents:
NRIC
Passport
FIN (for Foreigners working, studying, or living in Singapore)
Work Permit/S Pass/E Pass
Utility bills (as proof of address)
When you're applying for a loan, please ensure that the money lender does not keep the original version of any of these documents. These should only be used to verify your identity, with copies being made as required by the law.
Financial information
Your financial history and current situation determine the size of the loan principal amount, the interest rates, fees, and penalties. Furthermore, a favourable financial history may qualify you for lower interest rates, promotions, and discounts. You should provide as many of these documents as possible:
Employment contract agreement and/or Offer Letter
Latest payslips for at least the past 3 months
Relevant CPF and IRAS documentation
Money lenders may also ask you to log in to Singpass to verify this information as they process your application. Reputable legal moneylenders will never ask you for your login credentials. Remember not to share your Singpass login credentials with any individual or institution.
What are the best personal loans for teachers?
Most licensed money lenders offer several cheap loans that are suitable for teachers. The specifics for each one vary and their loan executives will be happy to help you choose the one that works best for your circumstances. Here's how they stack up:
| | | |
| --- | --- | --- |
| Loan Type | Pros | Cons |
| Payday Loan | Short tenure and low minimum amount | High interest rate |
| Personal Loan | Wide range of tenure and amounts to choose from | Easy to over/underestimate the amount you need |
| Bridging Loan | Can be used to purchase a new HDB flat or private property | Only good for the short term (six months) |
| Business Loan | Best if you're planning to start a business | The use case is very specific |
| Debt Consolidation Loan | Best if you have multiple loans to consolidate | Only applicable to individuals who have taken up multiple loans |
| Renovation Loan | The appropriate loan type if you're renovating your home | The use case is very specific |
| Taxi/Grab/Gojek Loan | These loans pay for themselves as you work | Limited to taxi and private hire drivers |
Finally, The Singapore Teachers' Co-operative Society Ltd offers personal loans for teachers with attractive terms. However, do note that it is a credit co-operative society and not a licensed money lender.
Regardless of your financial situation, always avoid loan sharks. Their loan terms often appear attractive on the surface but are always designed to make you repay a much higher amount than the loans from banks and licensed money lenders. That's not all. You could even lose your job by borrowing money from illegal moneylenders.
Instead, do consider engaging the services of a reputable licensed money lender like Dio Credit. We appreciate the contributions teachers make to creating a better society. If you are an educator and need a loan for any reason at all, contact us for the best rates and loan terms. Our experienced loan executes are always there to advise you and ensure that you're applying for something that fits your current financial situation and needs.