A long-term loan is a common financing option that both businesses and individuals leverage for investments, debt restructuring, or asset acquisition. Typically, such loans involve relatively larger sums of money and require anywhere from three to 35 years to be repaid. A general rule of thumb when applying for a loan would be that the larger the amount borrowed, the longer the tenure.
Personal loans, debt consolidation loans, business loans, and renovation loans are among the most common types of long-term loans. That being said, whether it's a business or an individual taking up the loan, borrowers must be mindful of long-term loan advantages and disadvantages before committing to one.
If you're looking for a long-term loan to aid with your cash flow, read on to find out more about long-term loan advantages and disadvantages.
Advantages of Long-term Loans
Loan term loans like personal loans and business loans generally offer larger principal amounts. However, that's not the only benefit that borrowers get. There are two more important advantages of taking on a long-term loan:
1. Manageable Repayment Terms
With a longer tenure, your monthly repayments would be smaller hence more manageable. This lowers your risk of making late repayments or even defaulting on your loan.
Additionally, this can reduce any large impacts on your cash flow and prevent you or your business from being constantly cash-strapped.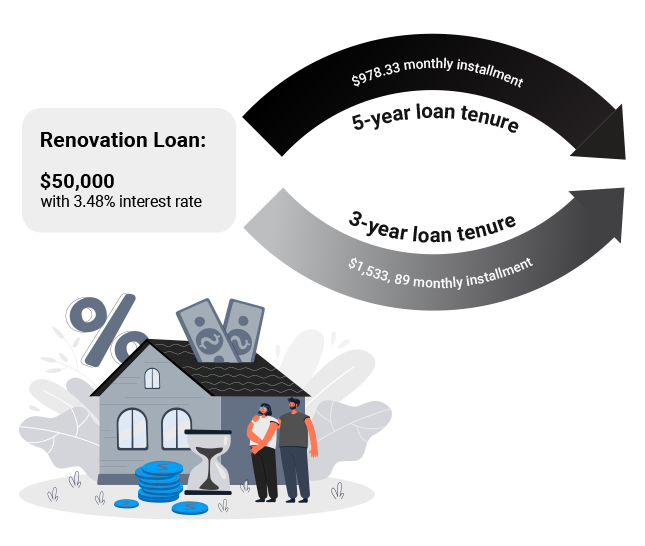 These are the main reasons why some borrowers prefer a longer loan tenure over a shorter one. The same applies to 12-month cash loans because borrowers tend to feel less financially burdened if they are allowed to pay less every month.
2. Competitive Interest Rates
The second great advantage of long-term loans is that their interest rates are generally competitive when compared to short-term ones. This is especially true if you're taking on a secured loan over an unsecured one.
The competitive interest rates give borrowers a chance to manage their finances or acquire assets in the meantime without incurring hefty interest payments. Letting your debt snowball is never a good idea and opting for a longer loan tenure helps to lower that risk.
Disadvantages of Long-Term Loans
There is no perfect loan type or tenure, with each having its pros and cons. This applies to long-term loans, which have two major disadvantages:
1. Need for Collateral or a Guarantee
When evaluating long-term loan advantages and disadvantages, the need for collateral or a guarantee often stands out as a concern. If you're taking on a large amount with a tenure that's a decade or longer, this is especially applicable to you. That's because you might lose your assets to repossession if you default on your monthly repayments.
Because long-term financing generally comprises larger sums of money, imposing a collateral requirement reduces the financial risk for institutions like licensed money lenders. It ensures that they can recover their losses if borrowers are unable to repay their loans.
Collateral for a secured loan can constitute one's vehicle, residential or commercial properties, or even jewellery.
2. Stringent Requirements and a Longer Processing Time
Since lenders face more risk due to the relatively larger value attached to long-term loans, they impose a more stringent approval process before approval. This applies to both licensed money lenders and banks.
Essentially, borrowers must have a positive credit history and prove that they finance the loan. The latter can come in the form of income proof if you're an individual or annual revenue if you're applying for your company.
To make the application process faster and more seamless, do prepare the following documents beforehand:
Individual Borrowers
Identity card or passport
Latest Income Tax Assessment
Latest 12 months of CPF contribution history
Latest three months' payslips
Relevant documents on the collateral (for example, Option to Purchase or Sales and Purchase Agreement for your property)
Latest credit facilities statements (for example, existing home loans, credit cards, car loans, or personal loan facilities)
Latest Credit Bureau Singapore (CBS) Report
Corporate Borrowers
ACRA business profile information
Latest two years' Notice of Assessment (NOA) of all directors
Latest Credit Bureau Singapore (CBS) Report of all directors
Latest two years' company financial statements
Latest six month's company bank statements
Guarantor's identification documents and income tax assessment
Some lenders may request for company's accounts receivables aging list and upcoming contracts
For corporate borrowers, do spend the time to research the exact loan that your company needs first. That's because you might need to provide a different set of supporting documents to apply for it. In any case, it pays to be meticulous with your company's recordkeeping, regardless of whether you're planning to apply for a loan.
If you need a reputable licensed money lender in Singapore, look no further than Dio Credit. With a wide range of loans for both individuals and businesses on offer, our experienced loan executives will pinpoint the exact one that you need. Simply contact us to begin your application for a long-term loan.